Christmas charity event dropped on Trinity Close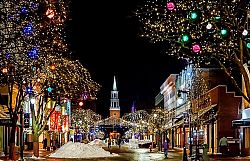 A charity collection will not be taking place, and yellow parking restriction cones are not going to be installed along roads in the lead up to Burnham-On-Sea's Trinity Close this Christmas, following safety issues that were raised in a council safety group.
The Trinity Close is an event where residents display thousands of festive lights on their homes. In order to provide both advice and guidance to event organisers, Sedgemoor's Safety Advisory Group (SAG) has brought together representatives from Somerset County Council, district councils and emergency services, including the Police. SAG has stated that they are supporting the use of yellow traffic cones in Trinity Close this Christmas, unless residents take liability for any accidents that occur as a result of their use. As they are holding a charity collection, this transforms the normal lights display on a normal street into an 'event' as categorised. This introduces new insurance consequences, previously unneeded. As a result of this, the residents have just decided not to hold a charity collection this festive season.
The residents decision has been outlined in a letter distributed to home owners in the surrounding area this week, and states "for the past few years, yellow cones have been used on Trinity Rise, Pizey Avenue and into Mountbatten Close to restrict parking during December. Initially, this was done after consultation with the local Police who lent us yellow no-parking cones, hoping to improve pedestrian safety and access to homes. However, this year the Sedgemoor Safety Advisory Group (SAG) has passed on a statement from a member of the Somerset Highways Department saying that they cannot condone the use of cones, affirming that 'should an incident occur as a result of your actions (placing the cones), you could be held liable'".
They continued to explain that SAG had not offered any alternative suggestions to improve safety or access to their homes, and even so they are proceeding forward without putting out any yellow cones. Further developments has shown that, in order to avoid classification as an 'event', there is to be:
no advertised switch-on;
no media involvement, at their instigation;
no collecting box;
individual switching on and off for each residents.
A spokesperson for Somerset County Council commented, "we've always been pleased to support the residents of Trinity Close with their fantastic Christmas display, and we worked with them last year to implement permanent traffic orders to help improve the parking situation. As the display has grown in popularity we have provided advice through the Sedgemoor Safety Advisory Group to ensure they are aware of potential consequences and liabilities. This advice is well intended and we are happy to work with the organisers to support their plans for the future".
Many charities have benefited from past displays, and one of them, BARB Search and Rescue, has commented that, "this is disappointing news for a small, independent charity like us where the funds raised really have made a big difference over the past few years. However, we fully respect and understand the decision and thank the residents for their wonderful, much appreciated support".