News
Updated Oct 27, 2022
How green is Coffey?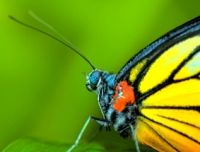 Some of the environment sector has reacted with concern and surprise that new prime Minister Rishi Sunak has appointed Thérèse Coffey as environment secretary.
Ms Coffey was recycling minister at the department between 2016 and 2019, first appointed under Andrea Leadsom and kept on by Michael Gove. She was involved in shaping the Resources and Waste Strategy back in 2018, so there is optimism that she may provide fresh impetus to the plans, which have now stalled.
With the end of the year nearly with us, there's already a lot to prepare for. Most notably, a legally binding deadline to publish a set of targets under the Environment Act 2021 by the end of the month. A deadline the Office for Environmental Protection (OEP) has already warned is likely to be missed.
So what else can we expect from the new environment secretary?
The Retained EU Law Bill
Coffey is very much in favour of the Retained EU Law (Revocation and Reform) Bill and voted in favour of it during its second reading this week.
The hugely controversial Bill will remove the "special status" given to EU law that was retained after Brexit, meaning it can be replaced with new domestic legislation more easily. Under the Bill, all law derived from the UK's 40-year membership of the European Union must be reviewed and either transferred into UK law or scrapped by the end of 2023.
The Bill has seen widespread criticism from Government opposition, Trade Unions and green groups, with it being described as "a deregulatory free-for-all" and an act of "legislative vandalism".
Fracking "ban"
Most recently, Coffey was accused, along with Jacob Rees-Mogg, of "manhandling" fellow MPs to vote against the Labour motion on fracking, which would have allowed MPs a say on the Government's plans to reverse the ban on fracking. She denies the accusations.
Coffey voted to lift the ban on fracking, a policy which now appears to be scrapped anyway as the new Cabinet seeks to distance itself from some of the previous PM Liz Truss's more shambolic policies.
Pesticide backlash
In 2018, Coffey Tweeted that she was "getting ready to deploy the amazing Roundup!"
Roundup is a herbicide weedkiller brand, which contains Glyphosate. The day before her Tweet, a US jury found that chemical giant Monsanto knew its Roundup weedkiller was dangerous and failed to warn consumers. Also back in 2015, the International Agency for Research on Cancer (IARC) labelled Glyphosate as "probably carcinogenic". It has since been banned or flagged for phase-out by around 46 councils in the UK.
Her original Tweet provoked a number of critical comments, including the confused response of "Er..." from former Suffolk MP Ben Gummer, son of former Environment Secretary John Gummer.
Public ownership of forest and woodland
As MP for Suffolk during the 2010 general election, Coffey faced criticism from Suffolk residents over her support for the Government's proposal to sell off around 150,000 hectares of forest and woodland in public ownership.
DEFRA said at the time that the sale of the land would create opportunities for the private sector and civil society. However, such was the backlash from her constituents, the plans were eventually junked when the then environment secretary Caroline Spelman announced that the plans would be dropped due to their opposition.
Green investment and biodiversity
While secretary of state for the Department for Work and Pensions, Coffey encouraged green investment, saying:
"Pensions can be the superpower in delivering prosperity for people and the planet in our race to net zero."
She has also welcomed a review into biodiversity and DEFRA's nature strategy in 2020, stating:
"This is a really exciting moment for our natural environment after years of work. Our nature strategy in harmony with and a great catalyst for our climate change strategy will help us both achieve net zero and save our planet."
Comments of Coffey's appointment
There are some points of hope in Coffey's appointment.
Shaun Spiers, chief executive of environmental thinktank Green Alliance, said:
"Thérèse Coffey has experience at Defra, working with Michael Gove when there was a strong push to show that Britain could be greener outside the EU than as a Member State. It's good that she won't have to start from scratch and can build on this experience to drive reform forward. In particular, as a minister in Theresa May's Government, she understood the importance of the circular economy, a policy area that has stalled since then."
One senior source in the farming sector simply suggested that "anyone is better than Ranil", referring to the previous environment secretary, Ranil Jayawardena.
Other Cabinet reshuffles
Succeeding Jacob Rees-Mogg as secretary for the Department for Business, Energy and Industrial Strategy (BEIS) is Grant Shapps.
Previously at the Department for Transport (Dft), Schapps published the Transport Decarbonisation Plan, which although delayed by Covid-19, outlines how all modes of transportation would align with the UK's 2050 net-zero target.
He also forged ahead with the Jet Zero Partnership and Strategy, designed to deliver a net-zero transition by 2040 for airport operations and domestic flights, and 2050 for international flights.
It has also been confirmed that Alok Sharma will remain in his role as COP26 President. The UK officially holds the COP Presidency until 6 November, when it will be handed over to Egypt as it begins its own iteration of the UN climate summit.