News
Updated Jan 24, 2023
A multi-agency action day targeted waste criminals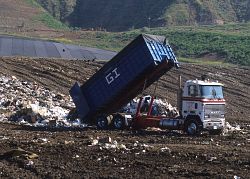 On 12 January 2023, a multi-agency co-operation lead a proactive action to check a number of waste sites and waste deliveries as part of operation Lyceum and Iris, to crack down on waste criminals.
Officers from the Environment Agency, Police, HM Revenue and Customs (HMRC) as well as the Driver and Vehicle Standards Agency (DVSA) carried out checks aimed at stopping the movement of misdescribed waste, and preventing it from being incorrectly disposed of. 30 lorry drivers were spoken to regarding the cargo they are transporting and tested a number of lorries for the presence of hazardous waste.
During the operation, Police seized a stolen generator worth £15,000 and flushed out lorry drivers who attempted to evade inspection. HMRC and DVSA officers also checked for other offences, including tax evasion and vehicle defects.
It is estimated that waste crime costs English economy around £1bn a year, undermining legitimate operators. Since the publication of Our waste, our resources strategy for England in 2018, tackling organised illegal waste operations has been one of the priorities of the Environment Agency.
Head of the Joint Unit for Waste Crime, Phil Davies said: "Last week we led another successful multi-agency day of action across the country. Working with partners including HMRC, DVSA and the police, we stopped and inspected trucks we suspected were involved in the movement of misdescribed waste".
"Anyone involved in similar activities should be aware that we will use the capabilities of different agencies to track and stop them."