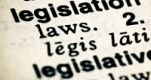 What legislation would you revoke? Survey results!
PRESS INFORMATION
Our surveys say…
29 March 2017
Cedrec, the online legislation analysts, conducted two surveys, asking the question to both environmental and safety professionals: in a post-Brexit world, what legislation would you revoke?
It's a fitting question giving the timing of the notification to withdraw from the EU and the new challenges and opportunities the UK faces in safeguarding and refining legislation across all industries.
The results, from a combined 355 survey responses, were interesting.
Safety
In Cedrec's health and safety survey, which had 158 completed responses, the top three pieces of legislation respondents would revoke were the:
Display Screen Equipment (DSE) Regulations with 43%;
Electromagnetic Fields at Work (EMF) Regulations with 24%; and
Construction Design and Management (CDM) Regulations with 14.5.
Every piece of safety legislation suggested in the survey was selected by at least two or more respondents, fuelling the belief that the legislation needs an overhaul.
The comments provided were enlightening. Despite every piece of legislation offered on the survey being selected by some, others suggested it would be wrong, even foolish, to even consider getting rid of health and safety legislation.
Those who were for keeping the legislation varied from staunch supporters of the provisions in place, to those who believed the legislation could stand to be "watered down".
Environment
On the environmental side of things, the top three pieces to be up for the cut were the:
Energy Savings Opportunity Scheme (ESOS) with 42%;
Carbon Reduction Commitment (CRC) with 34%;
Packaging Waste Regulations with 24.8%.
Unlike the suggested legislation on the safety survey, some pieces of environmental legislation escaped selection from all 197 environmental respondents.
They were the:
Contaminated Land Regulation;
Radioactive Substances legislation;
Air Quality Regulations.
A majority of comments from both professions vouched for the protection of all legislation, albeit with revisions and reviews. These kinds of adjustments or amendments are commonplace in legislation and it appears professionals in both sectors wish to see this continue as the UK makes its way out of the EU.
Disdain for ESOS was very apparent, along with the complexity of REACH – yet REACH, for all of its confusion, scraped only 11% in favour of abandoning it.
Both surveys suggest that, whilst legislation is difficult to work with, most respondents can freely admit that it is a necessity.
It is encouraging that the professionals of these sectors have a healthy respect for the majority of the legislation in place, even if it can be a pain.
Comments
Commenting on the results of the surveys, senior legal author at Cedrec, Neil Howe, wasn't surprised.
"The support, in particular, for core safety legislation is reassuring. We've always found that safety professionals understand the strength of UK legislation in their field, and that we really lead the way in occupational safety. This is backed up by 43% who have criticised the DSE Regulations; Legislation from 1992 that no longer reflects the needs of modern working requirements.
"Likewise with the environment, it's not things like Permitting or Waste legislation that people think are too onerous or burdensome, its things like ESOS and CRC, which although claim to result in energy savings, are incredibly expensive to implement, with little real benefit to business."
ENDS
Media contact: Amy Batch (amy@cedrec.com) 0191 490 6700 (ext. 6709).
More about Cedrec: Cedrec is an online comprehensive legislation resource for Environment, Safety, Planning and Energy legislation. Established in 1994, and regarded as one of the most accessible information sources in the market, Cedrec makes legislation simple.
At a glance:
North East-based Cedrec takes legislation from the UK and Europe and makes it easy to understand.
Specialising in both subscriptions and as consultants, they can help you with legal compliance if you have a management system like ISO 14001, ISO 50001, or OHSAS 18001 in place, or you're working towards one.
Cedrec's online system is updated daily as new legislation and policy comes in. As a subscriber, customers can locate and access all the information required using a unique structure, clear menus and custom built search engine.
A one-to-one consultancy service covers key aspects of management systems including legislation compliance reviews, registers of legislation, gap analysis, aspects and impacts and even desk research.
Cedrec Environment: Cedrec Environment provides Plain English information to stay up-to-date with ever changing environmental law and its implications. Cedrec Environment is beneficial to all organisations but especially those seeking to gain or maintain accreditation to ISO 14001 or similar environmental management systems.
Cedrec Safety: Arranged in an accessible format, Cedrec Safety provides a constant source of reference and assurance for all industries. This includes summaries, amended full text, ACOPs and Guidance for both members and non-members of IOSH.
Cedrec Planning: Offering advice and guidance to individuals, companies and organisations who are seeking planning permission for development projects to navigate the minefield of ever shifting UK planning law.
Cedrec Energy: If energy is one of your main costs and concerns, Cedrec Energy is for you. It provides you with a subject specific focus, and will be a crucial part of your ISO 50001 framework.