News
Updated Jul 14, 2022
Agency calls for prison sentences for water companies bosses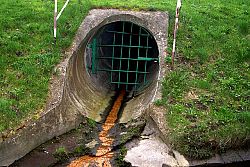 The newest report published by the Environment Agency (EA) calls for much stricter enforcement of serious pollution incidents, as current sentences are viewed as too lenient to put off Chief Executives and Board members overseeing water companies that cause serious water pollution.
The report shows that in 2021, the performance of water companies in England fell to the lowest level since Environmental Performance Assessments (EPAs) were introduced. The assessment rates companies on a four-star scale.
Despite water companies being fined nearly half a billion pounds over the last decade of serious pollution incidents, they remain undeterred by such penalties issued by the courts.
The report highlights that Southern Water and South West Water were awarded the lowest, 1-star rating, while Anglian Water, Thames Water, Wessex Water and Yorkshire Water were rated two stars. In July last year, Southern Water was fined a record £90m for severe sewage pollution.
The remaining three companies - Northumbrian Water, Severn Trent Water and United Utilities maintained their four-star rating, although the EA stressed that certain improvements are still required.
Following the publication of the report, the EA is calling for:
courts to impose much higher fines for serious and deliberate pollution incidents, as current fines handed out often amount to less than a Chief Executive's annual salary;
prison sentences for Chief Executives and Board members of water companies who oversee and are responsible for the most serious pollution incidents, and the company directors struck off so they cannot progress their careers after illegal environmental damage.
The Chair of the EA, Emma Howard Boyd, said: "It's appalling that water companies' performance on pollution has hit a new low. Water quality won't improve until water companies get a grip on their operational performance. For years people have seen executives and investors handsomely rewarded while the environment pays the price.
"Company directors let this happen. We plan to make it too painful for them to continue like this. The amount a company can be fined for environmental crimes is unlimited but fines currently handed down by the courts often amount to less than a Chief Executive's salary. We need courts to impose much higher fines. Investors should no longer see England's water monopolies as a one-way bet."
The spokesperson for the Department for the Environment, Food and Rural Affairs (DEFRA) said: "This report shows that water companies are ignoring their legal responsibilities. Water company chiefs cannot continue to make huge profits whilst polluting our waters.
"We will not tolerate this behaviour and we will take robust action if we don't see urgent improvements. We are the first government to set out our expectation that water companies must take steps to significantly reduce storm overflows and earlier this year we consulted on a comprehensive plan to tackle the adverse impact of discharges from storm overflows."
For more information on this subject, see: