News
Updated Jun 17, 2021
Workers exposed to lead dust during refurbishment of church bell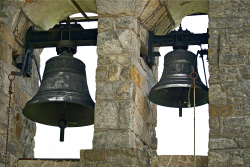 John Taylor Bell Foundry Ltd was prosecuted after their employees carrying out repair and refurbishment of church bells at St Peter's church in Barton-Upon-Humber, were exposed to harmful lead dust. The employees were stripping off rust and old paint from the frame and fittings of the metal bell, and after work had been underway for some time, it was confirmed that the old paint contained lead.
The Health and Safety Executive (HSE) investigated the incident and found that the workers who had been stripping the paint had been exposed to harmful lead dust. These workers had been using power tools, which generate excess levels of dust, and the company did not have proper cleaning techniques and personal protective equipment in place for this work activity.
The company pleaded guilty to breaching the Control of Lead at Work Regulations SI 2002/2676 and were fined £13,333, with costs of £6,469.90.
HSE Inspector Jennifer Elsgood, commented: "The company's procedures for identifying lead, protecting workers from lead exposure during works and providing information and instructions to workers regarding lead were inadequate and resulted in a real risk to the health of those workers. This incident could so easily have been avoided by simply carrying out correct control measures and safe working practices."