Are you ready for 2021?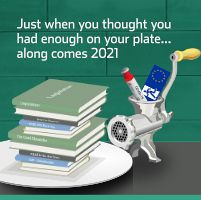 We know working with legislation is hard and time consuming.
Just when you think you're on top of everything, you have a slow, painful realisation that 2021 means more COVID-19 changes and the small matter of Brexit to deal with.
As if you didn't have enough on your plate!
Cedrec in 2021
Don't worry, we've got you covered.
We're busy beavering away at the moment, working on a couple of things to make sure next year is simple and straight forward for you.
Brand new COVID-19 section
We've just finalised a whole designated area on your Cedrec Safety subscription devoted to COVID-19.
All related legislation and guidance in one place, so you can quickly find out what the coronavirus means for your business, and what you need to do to make your workplace COVID-secure.
You can find the new Section here.
Brexit specific topic pages
We know its been four years, but still there's nothing 100% certain on what's going to happen when we really do leave the EU at the end of the transition period on 31 December.
Lets be honest though, the majority of the rules and regulations you follow now aren't going to change significantly. But some things will. Most of you are downstream users under REACH, do you know what you need to do come January 2021?
To help you, we've created a "Brexit and Cedrec: what I need to know" topic, under the General Sections for Environment and Safety.
This topic page covers all the new terminology you're going to have to get your heads around - Retained legislation, retained reference legislation, IP completion day - all that jazz! It also include links to "Brexit significant changes", which will provide you with information where there's compliance changes you need to know about.
They're being worked on as and when things change, but you can find those pages here:
Brexit: significant changes - Environment
Brexit: significant changes - Safety
Cedrec post-Brexit video
We've also put together a little video that runs through all these changes, which should help to explain things and point you in the right direction of where everything is.