News
Updated Feb 27, 2020
Court of appeal rules Heathrow third runway illegal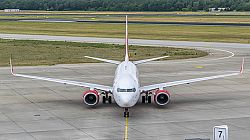 The expansion of Heathrow airport in the form of a third runway has been ruled illegal by the Court of Appeal on the grounds of climate change.
The controversial plan, which has been opposed by many campaigners and politicians and eventually brought to court by legal charity Plan B, was ruled unlawful as it did not take the Government's commitments on climate change into account.
Heathrow is already one of the busiest airports in the world, serving around 80 million passengers a year. A third runway would bring 700 more planes daily and consequently result in a large increase in carbon emissions.
Plan B argued that the Paris Agreement target to keep global warming well below 2 degrees compared with pre-industrial levels, was ratified by the Government and was an essential part of their climate policy. In assessing the impact of the third runway, Ministers has failed to consider the impact on climate targets.
Cait Hewitt, deputy director of Aviation Environment Federation said: "This is a huge win for the climate, and leaves Heathrow's third runway plans in tatters. In presenting plans for a third runway to MPs, the Government failed, the court has found, to assess whether this was compatible with the Paris Agreement."
"The project would increase emissions at the UK's biggest airport, and the UK has since legislated to achieve net-zero emissions by 2050, so it's very hard to see how the Government could now ever demonstrate that a third runway could be reconciled with the necessary scale of climate action. This ruling should mark the end of plans for any new runways in the UK. The Government should stand up to the airports' lobby, drop its support for airport expansion, and invest instead in low-carbon transport and supporting British tourism."
However, judges ruled that the third runway could possibly go ahead in the future, as long as it is aligned with the Government's climate policy and Paris Agreement.
The Court of Appeal did not overturn the high court's dismissal of other challenges to the third runway, including air and noise pollution, significantly increased traffic in the area and the enormous cost of the development.