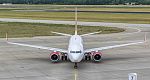 Heathrow expansion plans go to court
Published: 15 Mar 2019
A hearing into a mass of legal challenges to the Government's support for a third runway at Heathrow Airport began at London's High Court this week.
It is set to last for two weeks and will focus on the implications of the airports National Policy Statement (NPS).
The legal actions are being backed by a coalition of local authorities around the West London airport as well as environmental groups like Plan B, Greenpeace and Friends of the Earth.
The Mayor of London has also lined up his arguments against the proposals. The proposals do not yet have planning permission and require a development consent order (DCO), which is currently in progress.
Also due in court is Heathrow Hub, who have argued that extending one of the existing runways would be a more cost-effective way of expanding the airport.
The issues under scrutiny by the High Court include:
air quality, the increased surface transport will breach air quality limits and/or slow down their achievement;
bias, the decision to choose the north-west runway over the other options was a foregone conclusion;
climate change, the Climate Change Act 2008 and the Paris Convention were not properly considered;
habitats, as Heathrow was chosen over Gatwick despite it effecting more European-level protected sites compared to Gatwick;
noise, the effect of noise from an expanded Heathrow has not been properly assessed;
surface access, the impact on the surrounding road network has not been properly assessed.
BDB Pitmans' Planning Act 2008 specialist Angus Walker has commented that given the size of the case, he would not expect judgement on it for a couple of months, after which the losing side may take the case to the Court of Appeal. Meanwhile Heathrow Airport Ltd (HAL) is preparing an application for a DCO, a consultation it held on airspace and future operations closed a week ago, and a full statutory consultation is planned for June.
"If the judicial review is successful and part or all the NPS must be reconsidered, Heathrow could still carry on - it is not necessary for an NPS to be in place for a DCO application to be made and decided. HAL will have to decide whether to press on with its consultation and then the preparation of its application depending on the outcome of (or continuing litigation about) the judicial reviews".
John Sauven, executive director of Greenpeace UK, said "the climate minister has admitted we're in the grip of a climate emergency. The environment secretary has declared air pollution one of the biggest threats to public health in the UK. So how can ministers justify building a runway that's bound to make both problems much worse? Governments are very happy to talk the talk when it comes to protecting the air we breathe and the climate we all share, but unfortunately, getting them to walk the walk often takes legal action".