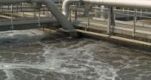 Costain and Galliford fined £2.8m over amputation
Published: 02 Oct 2018
Two of the UK's largest contractors have each been fined £1.4m for their role in an accident when a supervisor's boot was drawn into a rotating Archimedes screw.
Costain and Galliford Try Building were part of a consortium appointed to upgrade the Tarporley wastewater treatment works in Cheshire. On 5 March 2015 site manager Peter Rowan and a software engineer were commissioning a storm screen - which is a machine with a 3.1m long screw conveyor mounted horizontally inside an overflow chamber with a mesh basket attached to the underside - in order to remove solid objects from liquid sewage.
Rowan was inside the chamber, when without warning the machine started automatically. The auger turned a quarter of a rotation, pulling his foot through the mechanism and into the gap between the screw and the mesh basket. The accident resulted in him having three toes amputated.
Health and Safety Executive (HSE) investigating inspector David Argument explained the failings included not having the right risk assessments, or a safe system of work:
"They were trying to put the machine into service before it was handed over to the client; commissioning [new equipment] is often a risky part of the process.
"The injured person didn't have full documentation in relation to what needed to be done to commission the machine, and he wasn't a commissioning engineer: he was the MEICA (mechanical, electrical, instrumentation control and automation) site manager who wouldn't normally do the commissioning, but ended up doing it nonetheless.
"He had previously raised concerns with Costain and Galliford Try about staffing levels on the site. But he did what he thought needed to be done, and was able to get into proximity with it using a ladder."
Costain and Galliford Try Building, both with reported turnovers of more than £1bn in 2017, pleaded not guilty but were found guilty of breaching the Health and Safety at Work Act 1974. They were fined a total of £2.8m and ordered to cover costs of £101,462.
For more information, see the: