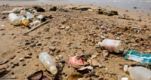 Environment Agency's new Plastic and Sustainability Team
Published: 13 Feb 2018
The Environment Agency has announced a £750,000 funding for a new, dedicated team to tackle plastic pollution in the South West England.
Following the recent launch of the Government's 25-year environment plan, the Agency aims to create a Plastics and Sustainability team, which will help to reduce the amount of plastics that pollutes land, rivers and coastline across Devon and Cornwall.
The team will also promote good environmental practices across the industry and general public, including campaigns on reduction of plastic from manufacturing and local pollution management.
The ambition of the Plastics and Sustainability team is to:
reduce the plastics reaching land, waterways and shorelines;
promote better environmental practices in business, where plastic is reduced from the start of the manufacturing process;
increase local engagement to change public behaviour and encourage community action to tackle pollution; and
monitor and research the ways plastics enter and affect the environment, supporting leading academics in the South West.
Chair of the Agency, Emma Howard Boyd, said:
"The Government's ambitious plan for the environment is a significant step toward the Environment Agency's commitment to reduce plastic pollution and shows how we are already working to put the plan into action.
"Plastic pollution is a threat to our natural environment and our new team promises to tackle it head on. By working together, we can reduce the amount which enters our land, rivers and the sea and protect wildlife for future generations."