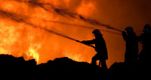 Grenfell council and Tenant Management Organisation may face corporate manslaughter charges
Published: 08 Aug 2017
The Metropolitan Police have stated that there are "reasonable grounds" to suspect that Kensington and Chelsea Council and the Kensington and Chelsea Tenant Management Organisation (TMO) may have committed corporate manslaughter offences relating to the Grenfell Tower fire.
Both the council and the TMO managed the 24-story tower block that caught ablaze on the 14 June, killing at least 80 people.
In a letter sent to survivors, the police stated that a huge amount of material had been seized and a large number of witness statements had been taken during the course of the investigation.
The letter went on to state that both the council and the TMO have been informed that they may be charged for their involvement in the blaze as the police suspect that each organisation may have committed the offence of corporate manslaughter under the Corporate Manslaughter and Corporate Homicide Act 2007. However the police went on to stress that the letter was merely an update and should not be taken to conclude that the identified offences and organisations are the only offences, organisations and individuals that are being investigated.
Once all of the relevant facts and information have been gather, senior representatives of each organisation will be formally interviewed by police in relation to the potential offences.
The leader of Kensington and Chelsea Council, Elizabeth Campbell, stated that the "residents deserve answers about the Grenfell Tower fire and the police investigation will provide these." Campbell went on to say that the council fully supports the Metropolitan Police investigation and will co-operate in every way they can.
The Justice 4 Genfell campaign group said in a statement that it welcomed the news. However the campaign group is not satisfied with the potential offences released that by the police and believes that they need to go further. The Justice 4 Grenfell group went on to say that "corporate entities [do not] make and enact policies, people do and for that reason J4G wants to see individuals named, charged and put on trial in addition to the corporate manslaughter charges."
IOSH, the British Safety Council and the Royal Society for the Prevention of Accidents are among those organisations that penned an open letter to Theresa May, calling on the Government to change its mindset towards safety regulations. More than 1,200 organisations and individuals have now signed the letter, which calls on the Government to complete its review of part B of the Building Regulations SI 2010/2214. These Regulations cover fire safety in buildings in England and Wales.
The letter prompted a two-hour debate in the House of Lords. The debate, led by Baroness Andrews, culminated in an agreement that representatives from the safety industry and Government should meet. Lord Prior believes that the crux of this debate will revolve around  "whether the pendulum has swung too far with deregulation."
For more information see, the: