News
Updated Nov 26, 2020
Police investigate I'm A Celebrity over non-native bug use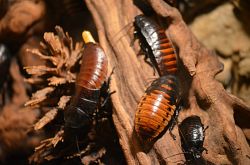 Following complaints about the use of non-native bugs and concerns they could have escaped into the Welsh countryside, police gave advice to the producers of I'm A Celebrity and are investigating the show, which is currently taking place in North Wales due to COVID-19 restrictions.
Welsh naturalist and BBC Springwatch presenter Iolo Williams questioned whether a licence was gained to release bugs into the wild, but the show has defended the use of animals in its trials.
A spokesman for the show said all the insects were "non-invasive species" which were only ever realised in a contained area, and were collected immediately after filming. They were donated to local wildlife sanctuaries, trusts and zoos for feed after filming.
He said: "The bugs are UK bred and are commercially purchased in the UK for birds and exotic animal feed for pets and zookeepers in normal circumstances".
Complaints have questioned what happens to bugs stuck to the celebrities as they walk back to the castle from the trials and whether the production team are struggling to keep these contained. While not all non-native species are invasive, some can permanently change ecosystems and are one of the five main drivers of biodiversity decline. Gwrych Castle Woods is a site of special scientific interest (SSSI), meaning it is home to some of the country's rarest species or habitats.
Half a kilometre away from the castle is another SSSI managed by the Woodland Trust, called Coed y Hopa, and ancient woodland home to ospreys and goshawks.
To release non-native species such as the critters used on I'm A Celebrity into the wild, a licence is needed from Natural Resource Wales (NRW) under the Wildlife and Countryside Act 1981. NRW's chief executive Clare Pillman said they had not received licence applications from ITV relating to releasing non-natives.
A North Wales Police Statement said the matter is being investigated by officers from the rural crime team and that: "North Wales Police and Natural Resources Wales have received information regarding the potential release of non-native species into 'non studio' areas, and we have given suitable advice to the production team regarding their set management and biosecurity".
Welsh First Minister Mark Drakeford has confirmed it would be right for police to investigate if there has been some infringement of the rules. He said he had worked carefully with ITV to make sure rules are observed and they "would be concerned about non-native species being released".