News
Updated Sep 27, 2021
New WHO Global Air Quality Guidelines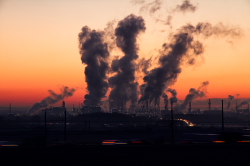 The World Health Organization (WHO) has cut its recommended limits for air pollution and urged nations to tackle the problem and help save millions of lives.
This is the first update for 16 years, and the guideline limit for the most damaging pollution (particles from burning fossil fuels) has been halved. The new limit for nitrogen dioxide (NO2), mainly produced by diesel engines, is now 75% lower.
The strict new limits reflect the body of evidence produced in recent years of the deadly harm caused to people by much lower levels of pollution than previously thought. The WHO have said that globally, air pollution kills at least 7 million people a year, while a recent study estimated 8.7 million early deaths a year from coal, oil and gas burning – 20% of all deaths.
New WHO Guidelines
The new guidelines recommend air quality levels for six pollutants, where evidence has advanced the most on health effects from exposure. When action is taken on these so-called classical pollutants - particulate matter (PM), ozone (O₃), nitrogen dioxide (NO₂) sulfur dioxide (SO₂) and carbon monoxide (CO) - it also has an impact on other damaging pollutants.
The guidelines also highlight good practices for the management of certain types of particulate matter (for example, black carbon/elemental carbon, ultrafine particles, particles originating from sand and dust storms) for which there is currently insufficient quantitative evidence to set air quality guideline levels.
They are applicable to both outdoor and indoor environments globally, and cover all settings.
WHO comment
Dorota Jarosińska, the WHO's technical lead for the new guidelines, said:
"These are very ambitious public health recommendations and achieving the guideline levels would be the ultimate goal, but all the steps towards it are critical.
"The interim targets [the WHO has also set] are milestones on this continuous march towards getting air quality that is most protective to health. Every step you make towards improving air quality brings health benefits."
She added, "We feel confident that these are really robust. But these levels absolutely do not mean we are confident that there is no harm [at even lower levels]."
Will the UK follow?
A spokesperson for the UK's environment ministry said:
"We will set ambitious targets on air quality through our Environment Bill. We will consider the updated WHO guidelines on PM2.5 to inform the development of air quality targets, but we must not underestimate the challenges these would bring, particularly in large cities and for people's daily lives."
A consultation on the proposed targets is expected in early 2022.
For more information, see: