News
Updated Sep 14, 2020
UK failing to meet UN biodiversity targets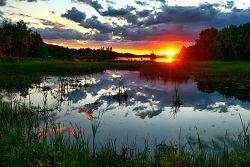 It has been a decade since the United Nations Convention on Biological Diversity at Aichi Provence in Japan agreed on 20 global targets for biodiversity for the 2011-2020 period.
The UK's self-assessment on its performance against the goals has shown that they have failed to meet 14 of the 20 targets. However the RSPB has argued that in fact the UK's performance is even worse than this and we have failed to reach 17 of the targets.
The RSPB claims that the UK has actually regressed on six of the targets, although the government's self-assessment doesn't show that it has gone backwards on any target.
Some of the areas that the UK is failing on include declining wildlife populations, too little land being managed for nature, and insufficient funding for nature conservation. In the last decade there has been a 30% decrease in funding for UK wildlife and the environment, which equates to around £250 million. Consequently potential habitats aren't being created, and existing ones aren't being adequately monitored or protected.
The report by the RSPB claimed that sites of special scientific interest (SSSIs) and national parks aren't being properly managed. They argue only around 5% of the UK is being looked after for nature effectively.
Whilst the government has claimed they are saving some of the UK's most at risk species, the 2019 State of Nature report discovered a 41% decline in species in the UK, with one in ten threatened by extinction.
Head of site conservation policy at RSPB, Kate Jennings, commented: ''The government assessment is a rose-tinted interpretation. What we have seen is an awful lot of positive rhetoric, what we're not seeing is the action to back that up. The government creates an impression of taking this stuff seriously but as soon as you dig down into the action that's just not reflected.''
Concerned over the UK's poor performance, the RSPB are seeking legally binding targets to protect biodiversity. Chief Executive at the RSPB, Beccy Speight, said: ''We have targets enshrined in law to tackle the climate emergency, but none, yet, to reverse the crisis facing nature. We cannot be in this same position in 2030 with our natural world vanishing due to inaction.''
''This is a global issue, and something that will take a generation to resolve, however the hard work must start today. We have to put our money where our mouth is and use the next decade to do something truly impressive.''
In 2021 the next UN Biodiversity Conference will take place in Kunming, China, where countries will set targets for nature for the next 10 years. Many conservationists are pushing hard for radical change that is needed to not only protect global biodiversity but to enhance and develop it. A key target will be to ensure 30% of land is protected for nature by 2030, which will require huge changes to farming, fishing, power generation and house building around the world.
A spokesperson for the Department for Environment, Food and Rural Affairs (Defra) commented in light of the RSPB report: ''We are leading the world by setting ambitious goals for nature and biodiversity in our landmark environment bill as well as introducing new ways to reward farmers for protecting the environment, and investing £640m in the Nature for Climate fund.''