News
Updated Sep 25, 2020
EDF unveils plan to build a 350MW solar farm in Essex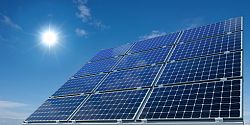 EDF, in a joint venture with Padero Solar, plan to build a large solar farm with battery storage near Chelmsford in Essex. The project, once completed, would be capable of generating electricity to power up to 67,000 households.
The project is at early stages and due to its size, a development consent will be needed from the Secretary of State, following public consultations, which are aimed to run in autumn 2020.
The proposed development would significantly improve the UK's solar grid capacity by adding another 350MW of clean energy, helping the UK to achieve the net-zero carbon emissions goal by 2050. The farm would be located on around 380 hectares of land, with the proposal classed as Nationally Significant Infrastructure Project (NSIP) under the Planning Act 2008, as it would export over 50MW of electricity.
Speaking about the development, EDF Renewables UK Director of Solar and Onshore Wind Development, Mark Vyvyan-Robinson said: "We are keen to work with the local community to deliver the wide-ranging benefits of low carbon electricity generation. We will be consulting widely on the project and letting the local community know more about the scheme in the coming months. There will be a consultation on Longfield Solar Farm later this year so people can find out more about the scheme and let us know their thoughts too.
"This is an excellent site for a renewable project incorporating solar and battery storage; it is suitably sunny and has a connection on-site to the National Grid network. Together, we have significant experience in developing and operating large scale renewable energy projects. Longfield Solar Farm will enable us to contribute to the country's green economic recovery from COVID-19 and shows we are committed to helping Britain achieve net-zero. It is also part of the Group's 2030 strategy to double installed renewable capacity from 28GW to 50GW in the next ten years."