£2m fine for transport firm following death of employee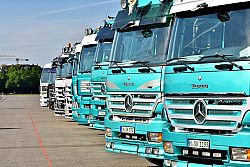 Two major transport companies were fined a total of £2.2m after a depot manager was killed when a HGV vehicle struck him.
On 30 August 2019, Neil Roberts who worked for Turners (Soham) Limited was struck by a HGV that was reversing out of the parking space. That incident happened at the premises of The Haulage Group Ltd in Birmingham.
Following an investigation carried out by the Health and Safety Executive (HSE), it was found that both companies had failed to properly manage the risks related to workplace transport.
Turners (Soham) Limited and The Haulage Group Ltd pleaded guilty to breaching the Health and Safety at Work etc Act 1974 and were fined £1.9m and £300,000 respectively. Both companies were also ordered to pay £7,300 in court costs.
Speaking after the hearing, HSE Principal Inspector Amy Kalay said: "This tragic incident was completely preventable.
"Both companies failed to recognise and control the risks associated with workplace transport, and in particular the dangers of reversing vehicles and poor visibility.
"The principle of ensuring pedestrians and vehicles are kept apart is well known and the measures needed to ensure separation and control the risk need not be complicated.
"If the companies had acted to identify and manage the risks involved, and to put a safe system of work in place, this incident would not have happened."
For more information on this subject, see: