UK government could block the Scottish bottle return scheme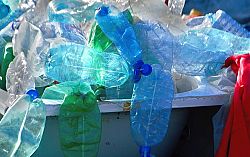 The troubled Scottish Deposit Return Scheme (DRS), developed under the Deposit and Return Scheme for Scotland Regulations SSI 2020/154, is set to be dealt another blow, this time by the UK government, as the Secretary of State for Scotland, Alister Jack, intends to deny a request from the Scottish National Party for a trade exemption under the United Kingdom Internal Market Act 2020 to be able to launch the flagship DRS.
The scheme was set to be launched this year in August, and once it's in force, Scottish retailers will add 20p to the price of single-use bottles and cans, which can be reclaimed once those items are returned to the recycling point or a collection machine. However, the Scottish Ministers say that for this scheme to work properly, an exemption to the UK-wide rules that prevent different treatments applying to the same product in England and Scotland.
The Scotland secretary has criticised the scheme and described it as badly designed and inflationary, which could be bad for business and consumers, adding that the cost of certain items would spiral under the scheme, bringing up an example of a 12-pack of plastic-bottled water, where the price would increase from £1.59 to £3.99 after adding the deposit cost to each bottle in the multipack.
The rest of the UK has announced plans to launch its own DRS, but this will not be in place until at least 2024 or later and will exclude glass bottles, which adds to the pressure on the Scottish scheme, which was planned for years and incurred high costs for the suppliers of drinks and the facilities to adapt for the scheme, involving 4,000 producers and 10,000 take-back machines.
It was reported that the UK ministers believe that the exemption would be essential for the scheme to apply to around 85% of drinks sold in Scotland that are made elsewhere in the UK and without the exemption, the whole scheme would be illegal.
It was also reported that the Scottish Ministers could face legal action from the drinks producers and distributors if the DRS fails, over recovering the costs of adapting and preparing their products for the scheme.