New energy labelling of appliances applicable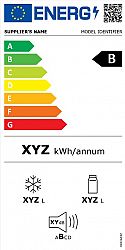 A new framework of energy labelling, which provides harmonised product information in the form of a graphic label placed on the appliance or its packaging, applies from 1 March 2021.
Where will it apply?
The new provisions apply both to the UK and the EU in the same way.
The EU Regulations came into force on 5 December 2019 - before the ending of the Brexit transition period - and the EU legislation has been retained in the same form by the UK government on 31 December 2020.
New labels
Each appliance, such as electronic displays, light sources, dishwashers, fridges and more has its own label which must conform to the specific requirements set out in the law.
New labels for light bulbs and lamps with fixed light sources will follow on 1 September, and other products will follow in the coming years.
Labels under the previous framework covered ratings from A+++, for the most efficient, to D for the least efficient appliances.
The new energy label is rescaled to a stricter A to G scale to account for future technological developments in energy efficiency, which means that currently, the newest and most efficient appliances cannot achieve the highest rating, and usually will be rated C or lower.
It has a slightly different design with improved clarity and more modern pictograms. It also includes a new QR code which allows you to find additional information about the appliance after scanning that code on a smartphone.
New Ecodesign requirements
Along with the energy labelling, new Ecodesign requirements will also apply from 1 March 2021.
These new requirements mainly cover the updated minimum efficiency requirements of various items and reinforce consumer rights to repair their appliances and support the circular economy.
From now on, manufacturers or importers will be required to make a wide range of replacement parts available to professional repairers for at least seven to 10 years after the last unit of an appliance has been placed on the market, as well as allow for certain parts that are simpler to fix by the user to be available to purchase for several years after that product has been taken off the market.
European Commission comments
The European Commissioner for Energy, Kadri Simson said: "The original energy label has been very successful, saving an average household in Europe several hundred euros per year and motivating companies to invest into research and development. Until the end of February, over 90% of products were labelled either A+, A++ or A+++. The new system will be clearer for consumers and ensure that businesses continue to innovate and offer even more efficient products. This also helps us to reduce our greenhouse gas emissions."
For more information on this subject, see: