Cedrec Environment & Safety Roadshow 2023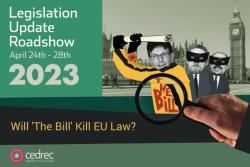 Our annual Legislation Update Roadshow is back in April 2023 for the 9th time.
Same as the last couple of years, it will be a combined environment and safety event. As usual, we'll take a look at all new legislation, guidance and policy you might have missed from 2022, and what you've got to look forward to in 2023.
I know we were all hoping for a nice quiet 2023, but with the Retained EU Law (Revocation and Reform) Bill looming on the horizon, and fears of a "deregulatory free-for-all", you're going to need to know what's going on!
Come along and pick our brains
We've all got a bit used to online events these days, and we will be running our Homeshow webinar again this year, but we'd love to see all your faces again.
Its worth flagging up too, that the in-person Roadshow is a longer event than its online version. So you'll get more detail and more information. There's also the opportunity to take advantage of Richard, Gareth and Neil's fountains of knowledge! We'll have some of our Sales Team alongside us too, if you want talk about anything product-related.
We'll all be about before and after the sessions, and during the breaks too - so come and have a chat with us one-to-one and ask us about Cedrec and what it can do for you, or just anything that's been niggling away at you.
If you can't make the dates, or you want a little Scotland, Wales and Northern Ireland content too, you can check out our online Homeshow.
Where we're at
We'll be stopping off at the following locations:
Sheffield: 24th April
London: 25th April
Bristol: 26th April
Birmingham: 27th April
Gateshead: 28th April
Just click the venue links above for more information.
How to book
The venue links above will take you to a booking page, and you can also click here for more information - including costs, start times and an agenda for the day.
We can't wait to see you!