News
Updated Feb 10, 2021
You have no authority here, Jackie Weaver!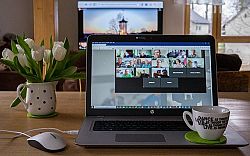 A parish council meeting in Cheshire has become a viral sensation after spiralling into chaos.
A recording of a zoom planning and environment committee meeting of Handforth Parish Council was shared to YouTube and Twitter, quickly racking up more than a million views. Warring factions within the parish council can be seen squabbling throughout, and has led to Cheshire East Council's monitoring officer issuing a letter reminding councillors of their obligations and responsibilities.
You will have done well over the last week or so not to have seen or at least heard of the meeting! It features two councillors (Aled Brewerton and chair Brian Tolver) and clerk to the meeting with Jackie Weaver arguing about the legitimacy of the session. Ms Weaver had been parachuted in to run the meeting amid accusations of poor behaviour by councillors.
It culminates in Cllr Brewerton angrily shouting at Ms Weaver, following the decision to place Cllr Tolver in Zoom's "waiting room", after he told the clerk: "You have no authority here, Jackie Weaver. No authority at all."
After Tolver's eviction, the vice-chair, Brewerton, joined by another man, proceeded to shout at Ms Weaver to "read the standing orders". When a fellow councillor called for civility, the meeting erupted into semi-hysterical laughter and two further councillors, Brewerton and Barry Burkill, were removed.
Neighbourhood planning
The viral meeting, which provided some welcome lockdown relief, has also raised some genuine concerns over bullying and behaviour issues in local councils.
Under the Localism Act 2011, a system of neighbourhood planning was introduced which was designed to give more power to local communities to influence development in their area.
This means parish councils such as Handforth can, for example:
grant planning permission through neighbourhood development orders;
create neighbourhood development plans outlining policies in relation to development.
Commenting on coverage of the meeting, Ms Weaver said:
"Clearly there's amusement in the way somebody has just lost it. It's harsh to take some pleasure from that, but I'm afraid when you are being bullied, if you can see that the other person has lost it then there is the sense of 'I did OK there because I managed to hold it together.'
"There is an element of bullying and bad behaviour in local councils and a lot of us are working very hard, and that includes central government, to try and do something about that."
NACL response
Concern over the behaviour shown in the meeting has prompted a statement from the National Association of Local Councils (NALC).
The statement seeks to reassure the public that, with local council elections coming up in May 2021, the vast majority of England's 10,000 local (parish and town) councils are run well by councillors, clerks and council staff and they provide a fantastic opportunity for people of all backgrounds and experiences to stand as councillors and make a change in their community.
You can read their full statement here.
For more information, see the:
Neighbourhood Planning (General) Regulations SI 2012/637;
Neighbourhood Planning (Referendums) Regulations SI 2012/2031.