News
Updated Jan 11, 2023
Sustainable drainage to become legal requirement for new developments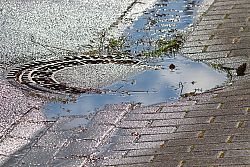 On 10 January 2023, the Department for Environment, Food and Rural Affairs (DEFRA) published a review for the implementation of Schedule 3 to the Flood and Water Management Act 2010. Schedule 3 of that Act covers the use of sustainable drainage (SuDS), which is a slower and more natural way to manage wastewater drainage from the properties, protecting from storm surge overflows, pollution and flooding, and improving soil filtration and percolation.
At the moment, Schedule 3 is not commenced in England because the government aimed to use the planning system to implement SuDS. The current planning policy requires that SuDS are included in all new major developments of ten homes or more, unless there is clear evidence that this is not appropriate. The government planned to address the increased use of SuDS through the National Planning Policy Framework (NPPF), however, the review revealed that this approach is not adequate and inconsistent as currently there are no legal requirements for the adoption or ongoing maintenance of such systems.
Following the review, the government is now planning to bring Schedule 3 to the Flood and Water Management Act 2010 into force for England to ensure that a consistent and effective approach when implementing Schedule 3 as written, which will help to address the impacts of climate change, urbanisation and increasing population while achieving other benefits, such as reducing surface water flood risk, improving water quality and improving water retention. The implementation of Schedule 3 in England will also require that SuDS are designed, constructed and maintained to an appropriate standard by people with relevant skills.
The government is planning to produce a public consultation later this year, which will help to shape the new approach when commencing Schedule 3 and related statutory instruments, as well as publishing national standards for SuDS. The commencement of the new requirements is expected sometime in 2024.
For more information see: