News
Updated Jan 17, 2023
HSE issue safety alert for exposure to diacetyl vapour in food and drink manufacture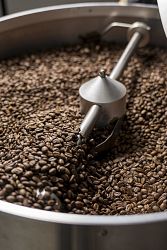 The Health and Safety Executive (HSE) have issued a safety alert for exposure to vapour from diacetyl in the manufacture of food and drink.
Often used as a flavouring and a by-product of coffee roasting, exposure to vapour from diacetyl, can cause severe and irreversible lung disease.
Studies by the HSE have shown that heating diacetyl above certain temperatures significantly increases airborne concentrations and the potential for exposures above safe workplace limits (WELs).
Diacetyl (CAS: 431-03-8), also known as 2,3-butanedione, is a naturally occurring organic compound but is also manufactured synthetically. The vapour can be generated as a by-product during certain processes such as roasting and grinding of coffee beans. Synthetic diacetyl is classified as a hazardous substance. It is toxic if inhaled, can cause skin irritation and eye damage by contact and harmful if swallowed.
The WELs for diacetyl are at 20 parts per billion (ppb) or 0.02 parts per million (ppm) over an 8 hour time weighted average (TWA) and 100 ppb or 0.10 ppm over a 15-min TWA period.They are published in EH40 - Workplace exposure limits.
There are two key risk areas the HSE have flagged in this safety alert:
coffee manufacture; and
flavour manufacture.
Coffee manufacture risks
During bean roasting and grinding exposure to diacetyl vapours can exceed WELs. The presence of naturally generated diacetyl during grinding is depended on temperature - with concentrations being significantly higher if roasted beans are ground whilst still warm (around 400C). Diacetyl levels are reduced if beans are cooled down to room temperature (around 16-20C) before grinding.
Flavour manufacture risks
When flavour mixtures containing diacetyl, even at low concentrations (below 5%) are heated, added to hot processes or spray dried, the airborne concentrations and potential for exposures above WELs is significantly increased.
The risk of exposure can occur during:
opening of diacetyl or flavouring containers;
decanting and weighing;
mixing;
spray drying to produce powdered mixtures;
packaging;
cleaning of vessels or spillages.
Action
Those who have processes which include the use of diacetyl, food flavourings that contain diacetyl, or are likely to produce diacetyl, then they must carry-out a risk assessment. This will help to identify the hazards associated with potential for exposure, understand who might be harmed and how, evaluate the risks and decide on precautions.
Alongside a risk assessment, those involved in these processes should:
check the safety data sheet;
use sampling and analysis to verify whether exposure is likely to be above the WEL;
substitute to a safer alternative;
control the risk of exposure; and
provide health surveillance.
For more information, see: