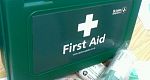 HSE announce 3 month extension to first aid certificates
Published: 27 Mar 2020
Due to the current COVID-19 pandemic, the Health and Safety Executive (HSE) has stated they are aware there could be a disruption for those trying to re-qualify for first aid certificates which they require for work.
Consequently, the HSE has announced that certificates for:
Offshore Medic (OM);
Offshore First Aid (OFA);
First Aid at Work (FAW); or
Emergency First Aid at Work (EFAW),
expiring on or after 16 March 2020 may have the validity of their current certificate extended by up to three months.
This should be used where requalification training has been prevented for reasons associated directly with coronavirus or due to complying with related government advice.
Anyone taking advantage of this extension should be able to describe clearly their reasons for delaying requalification training, and demonstrate steps they have taken to undertake the training, if required.
The HSE also made an announcement in relation to diver's certificates of medical fitness, saying that any diver with a 12-month certificate of medical fitness to dive which expires on or after 16 March 2020, may be accepted until 1 June 2020, where you can't obtain a medical re-examination with an approved doctor due to the coronavirus pandemic.
Again, divers must be able to explain why they haven't been able to take a medical examination and demonstrate steps taken to try to get one. Any divers would also need to confirm that they have not been diagnosed with or suffered an illness or injury that could impact on their fitness to dive.
The HSE will continue to review this matter over the coming months and as necessary update their advice on this matter.
On the back of the HSE's announcement the Department for Education also issued a statement supporting the extension of first aid certificates, saying that this can also be applied to staff employed in early years who hold paediatric first aid certificates.