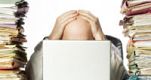 HSE issues work-related stress investigations criteria
Published: 09 Oct 2019
The Health and Safety Executive (HSE) has published new guidance on how it deals with reports of work-related stress.
HSE said it was redefining its operational guidance to establish a consistent approach to handling complaints of stress at work, because many of the concerns raised to the regulator were outside of its remit and "more relevant" to other regulators.
Cases of work-related stress, depression or anxiety rose by 13%, to 1,800 per 100,000 workers in the 12 months to April 2018, compared with 2016-17 when the condition became the most common work-related illness for the first time, overtaking musculoskeletal disorders (MSDs).
The number of working days lost to stress, depression and anxiety increased by 23% last year, rising from 12.5 million in 2016-17 to 15.4 in 2017-18. This is equal to an average of 25.8 days per case.
HSE will consider investigating concerns about work-related stress where:
there is evidence that a number of staff are currently experiencing work-related stress or stress-related ill health, so it is not an individual case, but;
HSE is not the appropriate body to investigate concerns solely related to individual case of bullying or harassment, but may consider this if there is evidence of a wider organisational failing, and;
HSE would expect concerns about work-related stress to have been raised already with the employer, and for the employer to have been given sufficient time to respond accordingly.
However the guidance states "HSE does not seek to apply the Health and Safety at Work Act (HSWA) where there is other more specific legislation or a more appropriate regulator".
"Cases of bullying and harassment would more commonly be dealt with as issues of discipline eg breaches of policies on expected behaviours, discrimination, victimisation or equality".
HSE Chair, Martin Temple, has maintained that stress would not become reportable under RIDDOR.
Duncan Spencer, head of advice and practice at IOSH, is mindful that although mental illness can be caused by work, it's often a mixture of home and work that causes stress. He stated that HSE has no jurisdiction over domestic risk, "so it's difficult to enforce when someone suffers. If it is hard to define whether an emotional hazard is created at work or at home, how can it be included under RIDDOR?".
Nevertheless he added that HSE still needs to step up and do more "in looking at how organisations either prevent emotional hazards or recognise their causes early so mitigations can be put in place".
"This is so much more tricky to achieve when anyone's mental health is a pendulum on a sliding scale from healthy, to coping, to struggling and then ill health. Being preventative means we have to find applications at the coping stage, when existing popular controls kick in".
"More than this, we need to look for emotional mitigations, rational and more typical controls such as policy, procedure and process are not necessarily the most effective. The HSE needs to start to analyse and enforce on organisations if they have inadequate preventative measures in place. After all, mental harm from emotional hazard does fall under the HSWA".
For more information on this subject, see: