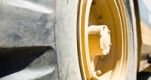 £1.5m fine for Tuffnells Parcels after trailer rollaway death
Published: 11 Jan 2019
Package delivery firm Tuffnells Parcels Express has been fined after one of its drivers received fatal crush injuries when he became trapped between a lorry tractor and a trailer in the West Midlands.
During a night shift in January 2016 the driver was coupling his vehicle to the trailer, known as a 'wagon and drag', which had been loaded with parcels and parked on a 3° slope at a depot in Dudley. The trailer rolled forward and trapped the driver between the trailer and the rear of the vehicle.
The Health and Safety Executive (HSE) found safety arrangements for coupling trailers had failed to take the slope into account. HSE stated that about two years before, the area of the accident had been designated a no-parking zone with cross-hatched yellow box road markings.
Regardless, HSE inspector Karl Raw discovered it was still a "nightly occurrence that this trailer or a trailer of this type was parked there to be picked up. Management had never addressed this at all over a period of years".
Though Tuffnells had carried out generic risk assessments for parking and movement of vehicles, District Judge Wheeler noted it had failed to consider site-specific factors and that the incident "certainly wasn't a systemic failure".
Raw served a notification of contravention on the firm, which immediately notified its 37 depots to ensure there were arrangements to avoid vehicles and trailers being parked on slopes. The company also updated the braking system on its fleet in case the accident had been caused by the trailer braking system being released to allow manoeuvring.
Tuffnells worked with the trailer manufacturers and it is now impossible for its trailer fleet to have the brakes taken off, until the actual trailer braking system is under the control and power of the air brakes of the vehicle it is being attached to.
HSE noted that "Tuffnells has certainly been very proactive in its measures taken post incident".
The Company pleaded guilty to breaching the Health and Safety at Work Act 1974 and, due to early guilty plea and remedial action, was fined £1.5 million and ordered to pay £32,823 costs.