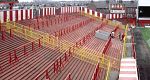 Hillsborough manslaughter trial adjourned
Published: 04 Jul 2018
The trial of Hillsborough match commander David Duckenfield has been adjourned until 14 January.
He is charged with manslaughter by gross negligence over the deaths of 95 football fans who died at the Hillsborough stadium in Sheffield in 1989 during the FA semi-cup final between Liverpool and Nottingham Forest. They were crushed in standing-only "pens" at the stadium's Leppings Lane terrace as thousands of ticketholders made their way into the ground minutes before the 3pm kick-off.
Duckenfield was expected to go on trial on 10 September at Preston Crown Court alongside Graham Mackrell, who was Sheffield Wednesday FC's safety officer and company secretary at the time. Mackrell is charged with two offences of contravening a condition of the ground's safety certificate contractor to the Safety of Sports Grounds Act 1975, and one offence of failing to protect peoples' welfare under the Health and Safety at Work Act 1974.
The pair will be asked to enter a plea at a pre-trial hearing on 10 September.
Last week it was announced that the prosecution for manslaughter of Duckenfield would continue to trial after Judge Sir Peter Openshaw lifted a prosecution ban, known as a "stay", imposed in 2000 to prevent further action being taken against him. The Crown Prosecution Service previously had applied for the stay to be lifted.
Judge Openshaw commented: "In respect of the defendant David Duckenfield I lift the stay. I confirm that I grant the voluntary bill of indictment to allow prosecution for manslaughter to proceed. I decline to order a stay on that charge."
He also rejected Mackrell's and three other defendants' applications for their criminal charges to be dismissed.