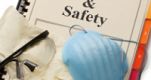 Engineering company fined following cylinder accident
Published: 04 Jul 2018
Redhall Engineering Services Ltd have been fined £14,000 and ordered to pay costs of £2,687 after pleading guilty to breaching the Health and Safety at Work etc. Act 1974. The court case followed an accident in which two of its employees sustained serious injuries.
Beverley Magistrates' Court was told that an employee of the company was decommissioning some gas cylinders. The cylinders were laid outside with the pressure release valves open in an attempt to empty them. The worker later began to remove the valves when it became apparent that the valve on the last cylinder was stuck.
Another employee then offered some help, and they both tried to remove the valve with a hammer. Whilst doing this, the valve was separated violently when the remaining gas in the cylinder was released. As a result, the cylinder fired into the workshop and hit two other employees inside. They suffered serious injuries to their legs, with one employee sustaining a broken tibia and fibula to both legs. The other injured employee broke their tibia and fibula on their left leg but also sustained nerve and tissue damage.
Both employees required several surgeries to repair the damage, and one of them has not been able to return to work since the accident occurred in January 2017.
A subsequent investigation by the Health and Safety Executive (HSE) found that there was no safe system of work in place for the work being carried out, nor was there a suitable risk assessment carried out.
HSE inspector James Harvey said, "This case highlights the serious risks posed by gas cylinders and how the correct disposal as well as cylinder handling and storage is fundamental to ensuring safety."
For more information see, the: