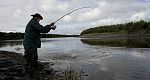 EA's Body worn cameras help to convict abusive behaviour
Published: 13 Feb 2018
Footage obtained by body worn cameras used by Environment Agency officers has helped to support a first conviction in North East England.
Fisheries Enforcement officers were obstructed in their duties by an abusive man who has been aggressive and threatening towards the officers. The incident occurred at Ouston near Chester-le-Street on 18 June 2017. 
On that day, Environment Agency officers approached David Bilverstone, who was fishing without a licence. When one of the officers took Bilverstone to the side to fill in an offence book, Callum Bell, who was earlier asleep on the bankside nearby and under apparent influence of alcohol, approached the officers, threatening to push them into the lake and attempted to lunge towards the officers, trying to grab their baton from its holster. Over the course of the next several minutes the footage shows Bell being verbally abusive, repeatedly swearing and making threats.
Even after the officers have finished dealing with Bilverstone's offence, Bell continued to shout and swear at them across the lake.
On 31 January at Newton Aycliffe Magistrates' Court, Callum Bell pleaded guilty to two offences of wilfully obstructing the officers in execution of their duties, and two offences of using threatening, abusive or insulting behaviour towards the two officers and fined £534 and ordered to pay costs of £530.
David Bilverstone has been charged with fishing without a licence and fined £110 and ordered to pay costs of £180.
This prosecution comes after the Environment Agency launched a six month trial in the North East to use body worn cameras for enforcement officers, while on duty.
Rachael Caldwell, Environment Agency's Enforcement Team Leader for the North East said:
"Bell was told on more than one occasion that he was being recorded by the cameras but he continued to be threatening and abusive.
"Our officers are doing an important job to ensure people are fishing legally and taking action against those who aren't. The safety of our staff is paramount and they shouldn't have to put up with any kind of abusive or threatening behaviour.
"This is the first time cameras worn by our officers have been used to support a conviction. Our preference is to prevent hostility in the first place and I hope this serves as a warning to others that their actions are being recorded and will be used in future court proceedings. Hopefully people will think twice before acting in such way."
It is expected that body worn cameras will be rolled out to teams elsewhere in the country to help their enforcement proceedings in the coming months.