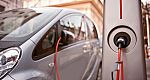 Oxford to ban non-electric vehicles
Published: 12 Oct 2017
Oxford City Council and Oxfordshire County Council have set out proposals that aim to ban all non-electric vehicles from Oxford city centre from as soon as 2020. The ban would initially apply to certain petrol and diesel vehicles, including cars, taxis and buses, and would extend to all vehicle types by 2035, including HGVs.
The Government aims to ban all new petrol and diesel vehicles across the nation by 2040, though it seems that Oxford is going to extra lengths to ensure its air quality improves in the near future.
Oxford want to create the first zero-emissions zone in the world, which will be expanded over time to cover the entire city centre by 2035. However, it will not be cheap to implement the scheme - it is estimated that it will cost Oxford City Council, bus companies, taxi firms and some other businesses a combined £7 million to replace banned vehicles with hybrid or fully electric vehicles. The plan will also hit the Council's own vehicles, such as waste lorries.
On top of that, more infrastructure will be needed to regulate the zero-emissions zone, such as cameras with number plate recognition so that fines or other penalties can be issued to drivers of non-compliant vehicles.
Councillor John Tanner said, "Toxic and illegal air pollution in the city centre is damaging the health of Oxford's residents. A step change is urgently needed; the zero emissions zone is that step change". Mr Tanner added, "All of us who drive or use petrol or diesel vehicles through Oxford are contributing to the city's toxic air. Everyone needs to do their bit, from national Government and local authorities, to businesses and residents, to end this public health emergency."