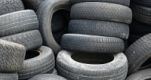 OMG! OM Recycling fined
Published: 28 Sep 2012
A County Down tyre recycling business, OM Recycling Ltd, has this week been subject to a £120,000 confiscation order under the Proceeds of Crime Act 2002 at Newry Crown Court, in relation to a series of waste offences.
The company operates a licensed tyre storage and treatment facility at Chapel Hill Road, Mayobridge and are allowed to store up to 150 tonnes of unprocessed tyres and 100 tonnes of shredded tyres inside two sheds. They are not however permitted to bale tyres or stock pile them on a large scale.
During site inspections by the Northern Ireland Environment Agency (NIEA) in 2009 and 2010, approximately half a million tyres were found stored in bales outside the licensed area. In October 2009, the company failed to act on an instruction under the Waste and Contaminated Land (Northern Ireland) Order SI 1997/2778 to remove all tyres stored in excess of permitted limits. A follow-up visit in February 2010 discovered additional tyre bales on-site.
The two company directors admitted to NIEA officers during an interview that they had allowed excess tyres to be stored on-site contrary to the conditions of their waste management licence, that they were aware they were operating outside their licence conditions and that they failed to remove the tyres in the time allowed.
The site has since been cleared of all excess tyres and the company is now largely compliant with their licence conditions.