Have yourself a less wasteful Christmas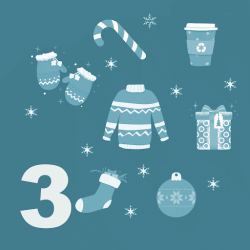 On the 3rd day of Christmas you could get a taste, for recycling and reducing your waste!
Around this time of year, it is estimated that the UK produces 30% more waste than normal. This includes over 1 billion Christmas cards, which are discarded shortly after they are received, an estimated 227,000 miles of wrapping paper (created from around 50,000 trees) and around 114,000 tonnes of plastic packaging.
It is a similar picture in Ireland, with Repak estimating in 2021 that 100,000 tonnes of packaging waste is produced around this time.
But can we have a festive holiday and a less wasteful one? Of course we can! It can also be financially beneficial to be less wasteful and more mindful too. Here's a few simple tips to follow.
Food
It is estimated by Wildlife and Countryside Link that the UK throws out the equivalent of four million Christmas dinners each year. That is roughly 263,000 turkeys, 7.5 million mince pies, 740,000 portions of Christmas pudding and 11.3 million roast potatoes - a staggering amount.
In Ireland, research conducted last year by Too Good to Go found that a much as 1.5kg of food per household could have been wasted last Christmas.
Remember:
meat and vegetables will both freeze and reheat (as long as you do it safely following food hygiene guidelines), so there is no reason to throw any of it away;
when putting leftovers in the fridge, use reusable covers and containers instead of clingfilm (a bowl with a plate over the top works too);
make a shopping list and only buy what you know you need;
buy fruit and vegetables loose - there is no need for the plastic bag. Buy them from local suppliers too for extra carbon footprint savings;
visit your local butcher for meat and, where possible, take your own reusable packaging, such as a large tupperware box;
if you can't re-use food, consider composting where possible.
Wrapping paper & cards
As mentioned above, we can waste a lot of valuable resources at this time of year on wrapping paper and Christmas cards. However, with small changes in habits (and less money spent) we can reduce or even cut out this waste entirely:
use reusable wrapping, such as gift bags;
only buy and use wrapping paper that can be recycled (think brown paper packages, and then get creative with festive stamps, pencils, pens);
avoid anything glittery - it means the paper can't be recycled and just ends up entering the environment as a microplastic;
think outside the box - use old magazines and newspapers for wrapping. It is certainly unique, and is just going to be thrown away anyway, so you may as well re-use the resource whilst you can;
keep ribbons safe and reuse them;
consider sending e-cards instead of Christmas cards. Even a simple phone call could mean more to someone than a card;
make your own Christmas cards using old card and paper. It could be a really fun and unique project.
Presents
Presents can be expensive, and will go to waste if unwanted. There is a real incentive to be sensible with presents this year - if not to cut down waste then to cut down costs. It is thought £4 billion is spent on unwanted gifts, which is around 60 million unwanted gifts every year! Consider:
home made gifts such as a scarf or baked goods. Even a jar of homemade jam could go down well;
negotiating with family and friends - they may not be in a position to buy things so don't add pressure to make needless purchases;
setting a spending limit. This will usually result in fewer (more meaningful) gifts bought and therefore less waste;
thinking about need. If you or someone else doesn't need anything, consider making a donation to charity in their name instead;
being honest - if you don't like a present then ask for the receipt. Or, when giving a present, include a gift receipt and don't be offended if the item is exchanged;
eco-friendly gifts, such as reusable coffee cups or reusable makeup remover wipes.
Decorations & lights
Most people are likely to buy reusable decorations, but it is important to look after them to avoid breakages and waste. If you are changing a colour theme, don't throw old decorations out - donate them, gift them, or keep hold of them to use again in the future.
You can even get creative with decorations:
make your own. You could make paper chains out of old paper, card, newspapers, magazines etc;
use a real, fresh Christmas wreath. If you're being creative, you could even scout around locally and in your garden for resources to use, such as leaves and pinecones;
if you put out candles for Christmas, use candles made of bees wax or soy wax, which have cotton, hemp or wooden wicks, all of which are less toxic. If the candle comes in a glass jar, wash it out and reuse it when the candle is burned down.
When it comes to lights, it is estimated that around 500 tonnes of them are thrown out each year in the UK. LED lights last a lot longer and use much less energy, so will cut down on waste and energy if you invest in them. If the lights are battery powered, invest in rechargeable batteries to cut down on hazardous waste.
The tree
It's an age old argument about which is better, natural or artificial. If you have an artificial tree, it has to be used for around 10 years for it to have a lower environmental impact than using real trees each year. So:
if you buy a real tree, make sure it is from a certified Grown in Britain supplier. This means it is a legal source and responsibly grown;
consider buying a real tree with the roots in-tact. There is a small chance it could survive if replanted after Christmas;
once a real tree has died, consider using a collection service where the trees are taken away to be shredded and then used in gardens and parks;
if you have an artificial tree, take good care of it and use it for as long as possible;
it is possibly best to avoid artificial trees with built-in lighting. If the lighting fails, you're more likely to throw the whole tree away;
if, for any reason, you want to change your artificial tree, consider donating or gifting it if it can still be used.
Christmas jumpers
Fast fashion can be fairly bad for the environment. Environmental charity Hubbub carried out research in 2019 on 108 Christmas jumpers available for purchase. 95% of them were made using plastic, and only 29% of those surveyed realised that this was the case!
Worse still, Hubbub found out that two out of five Christmas jumpers are only worn once over the festive period, meaning they use a lot of resources for very little use. Aside from making sure you wear clothes repeatedly to make it more sustainable, Hubbub suggests you can make your own sustainable Christmas jumper - and there'll not be another like it anywhere. They suggest using an old jumper you already own, but wrap decorations around it, so you can remove them after Christmas and still use the jumper. Suggestions include:
wrap and pin tinsel to it;
wrap fairly lights around (using rechargeable batteries);
pin some baubles, bells and bows to it;
even pin some old Christmas cards to it.
Or, if you want to permanently transform an old jumper, that would be a great idea too.