A new coalmine in Cumbria gets the government's approval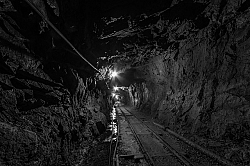 The Levelling-Up Secretary, Michael Gove, has granted planning permission for the first coal mine in 30 years, which will be opened in Cumbria.
The decision on granting permission to build the new mine has been pushed back numerous times since 2020 and has been subjected to a lot of controversy as green groups, politicians and industry experts say that the new mine goes against the government's climate pledges and the UK industry does not need local coal to use in manufacturing, mainly due to the high sulphur content. It has been widely argued that the vast majority of coal will be sent for export, which could be very profitable looking at today's coal prices that have significantly increased since the embargo on Russian coal has been put in place.
Contrary to the lack of industry useability reports, the spokesperson for the Department for Levelling Up, Housing and Communities said: "The Secretary of State has agreed to grant planning permission for a new metallurgical coal mine in Cumbria as recommended by the independent planning inspector.
"This coal will be used for the production of steel and would otherwise need to be imported. It will not be used for power generation. The mine seeks to be net zero in its operations and is expected to contribute to local employment and the wider economy."
The new deep coal mine will be a £165m investment which aims to produce around 2.8m tonnes of coal for steelmaking in the UK as well as for export and is expected to employ around 500 workers at peak production. It is almost inevitable that this decision will spark a legal challenge from climate activists, due to the mine going against the agreed Paris Agreement greenhouse gas limits and the UK's own net-zero targets and climate policies, similar to the challenge brought upon the expansion of Heathrow airport.
Just two days ago, former COP26 President under Boris Johnson's government, Alok Sharma, called the government to scrap this plan and focus on developing clean energy instead, a year after committing to "consigning coal power to history" at the last COP in Glasgow. Also, Lord Deben, chairman of the Climate Change Committee previously warned that new coal development would be "absolutely indefensible".
The shadow climate secretary, Ed Milliband, said that the mine was "no solution to the energy crisis", and would not benefit the British steel producers and marks "the death knell of any claims this government has to climate leadership".
In an attempt to justify his decision, Michael Gove said that the new mine would have an "overall neutral effect on climate change" and the "likely amount of coal used in steelmaking would be broadly the same with or without the development of the proposed mine".
The metal industry has been developing better alternatives to coal blast furnaces, such as using hydrogen or electric arc furnaces.