Santa's grotto goes online to save a COVID Christmas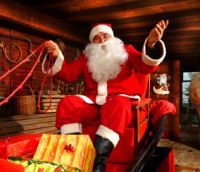 Seminars are being led by James Lovell, from entertainment production company Ministry of Fun, to teach Father Christmas' how to handle online video calls for their virtual grottos.
Ministry of Fun would ordinarily book hundreds and hundreds of Santa appearances across the country, with this year being considerably down. In response they spent months developing an online experience, Santa HQ, that allows children to complete 32 daily tasks, including pre-recorded challenges with Santa's elves and drawing exercises, they can then talk about live with Father Christmas on a live video call.
The decision of whether local shopping centres and garden centres will have a grotto is done usually between February and July, during the beginning and first lockdown of COVID, so many decided not to risk the high-touch, close-interaction environment of a grotto.
Matthew Wise, of Great Grottos, who have been supplying the UK for more than a decade, will run about 30 grottos this Christmas, which is half of what it would normally, and will make up some of the shortfall with video chats. They also have their own virtual Santa call experience called Live Santa Video Calls.
Wise believes that 500,000 visits to physical grottos in the UK have been cancelled. This has impacted shopping centres, who have been using the promise of meeting Santa in his grotto to gain physical customers who might otherwise shop online.
Nevertheless the online experience comes with its benefits, such as no long queues and children becoming upset. Wise commented on the benefits it should have for autistic children who will not have to wait around and not being there physically will reduce the sensory overload.
"It's reassuring for those customers to know it's going to take place in their own home at a time of their choosing".