News
Updated Nov 25, 2022
Ultra Low Emission Zone to be expanded across the whole of London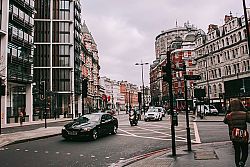 Mayor of London, Sadiq Khan, has today announced that the Ultra Low Emission Zone (ULEZ) will be expanded London-wide to tackle pollution, reduce congestion and address the climate emergency. The expanded ULEZ will come into force on 29 August 2023 and will cover all London boroughs, which are currently included in the Low Emission Zone (LEZ) boundary.
So far, London's ULEZ has been very successful in reducing pollution by 44% in central London and 22% in inner London. Now, according to the City Mayor, it is about time to expand it even further. Additionally, the expansion of the ULEZ will be accompanied by a £110m scrappage scheme, which will support those who are disabled, on lower incomes, or charities, small businesses and sole traders to switch to less polluting vehicles.
The current ULEZ standards for vehicles are:
Euro 3 for motorcycles, mopeds, quads etc. (L category, widely available since 2007);
Euro 4 (NOx) for petrol cars, vans, minibuses and other specialist vehicles (widely available since 2006);
Euro 6 (NOx and PM) for diesel cars, vans and minibuses and other specialist vehicles (widely available since 2006).
The low emission zone (LEZ) will continue to operate in its current form for heavy vehicles.
According to the Mayor's office, the expansion of London's ULEZ will save 27,000 tonnes of CO2 emissions in outer London. Additionally, the expansion is expected to make further progress to reduce air pollution, by reducing nitrogen oxides (NOx) emissions from cars and vans in outer London by 10 and 7 per cent respectively, and reducing PM2.5 car exhaust emissions in outer London by nearly 16 per cent, benefitting five million outer London residents.
To support those who would like to use the money from the scrappage to fund cleaner transport options, the scheme can provide money towards public transport, bikes and e-bikes and car clubs. In addition, the new scheme will also include the option to get up to two annual bus and tram passes, and Transport for London is working with businesses to agree on a range of offers for sustainable transport.
On top of these proposals, Mr Khan wants to expand the bus network in London by an additional 1m kilometres, to include growth areas and outer London.
In his speech, the Mayor said: "The latest evidence shows that air pollution is making us sick from cradle to the grave.  Londoners are developing life-changing illnesses, such as cancer, lung disease, dementia and asthma. And it's especially dangerous for children due to the long-lasting impact on their health and life chances, with kids in our city growing up with stunted lungs.
"The ULEZ so far has been transformational, reducing harmful pollution levels by almost a half in central London. But there is still far too much toxic air pollution permanently damaging the health of young Londoners and leading to thousands of early deaths every year, with the greatest number of deaths in the outer London boroughs. Expanding the ULEZ London-wide will mean five million more people will be able to breathe cleaner air and live healthier lives.
"The rising cost of living has been a key consideration for me. That's why I'm announcing that we will be introducing our biggest scrappage scheme yet - £110m – to support Londoners on lower incomes, disabled Londoners, small businesses and charities to scrap or retrofit their non-compliant vehicles. All the money raised by ULEZ will be pumped back into funding local public transport and I'm pleased to announce today that we are planning the biggest ever expansion of the bus network in outer London. "