Royal British Legion set to make Eco-friendly poppies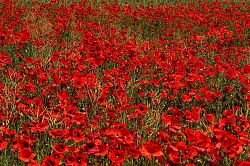 In coming years, traditional Remembrance Day poppies will be changed to have a stem made from a new biodegradable material, rather than plastic to ensure "minimal impact on the environment".
Previously, several green groups have campaigned for the poppies to be changed and to "move away from using disposable things wherever possible", with the Royal British Legion pledging to roll out a new poppy once they were "confident that the new poppy meets all necessary compliance requirements and is truly better for the environment".
The new poppy now seems to be closer to passing those requirements, with plans to scrap the plastic stem. Poppy wreaths are also set to change, with fibreboard replacing plastic sheets on 130,000 poppy wreaths that are left on war memorials and cenotaphs.
A Legion spokesman said:
"We have been working with suppliers and the relevant experts to produce a new poppy that has minimal impact on the environment. The RBL is committed to reducing the amount of single-use plastic.
"We have already implemented changes that will remove over eight million items of single-use plastic from our products and will continue to look at ways to further reduce the environmental impact of our Poppy Appeal products."
For this year there are still options that are more environmentally friendly, like purchasing an enamel pin rather than a paper one or just donating and not buying a poppy. The Royal British Legion website also states that all of the parts of the poppies can be recycled, which you can do at local Sainsbury's stores after you have worn it this Remembrance Sunday.