News
Updated Nov 17, 2021
Watered down climate pact at COP26 agreed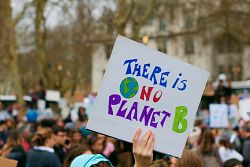 On 13 November 2021, nearly 200 countries at the UN climate change conference found some common ground and concluded talks on the final version of the COP26 agreement. The night, however, was not without drama.
The climate conference held in Glasgow was due to end on Friday, but the heated talks continued over the next 24 hours to finalise the deal, which was inching closer to being signed. In the last hours of negotiations, delegates from India and China expressed their concerns about a clause in the agreement that calls to "phase out" coal energy generation worldwide.
The previous draft agreement did not call for a specific deadline on coal phase-out, yet India and China decided that they support more of a "phase-down" approach. Wording that everyone has seen being watered down several times over the last week. In the hour before the ending of the plenary session, and concerns that the talks might collapse altogether, a final deal was reached and the "phase-down" change was approved by the COP26 President, Alok Sharma.
Abandoning coal as the source of energy is essential to limit rising global temperatures to 1.5ºC of pre-industrial level, and the temperature which scientists unanimously agree is the boundary beyond which some of the impacts of climate change may become irreversible and lead to catastrophic damage.
The last-minute change on coal was substantial, however, it did not materially change the whole agreement. Sharma insists that the deal as it currently stands shows that "we are on the way to consigning coal to history". Climate economist, Nicholas Stern said: "The last-minute watering-down of this statement is unfortunate but is unlikely to slow down a strong momentum past coal, a dirty fuel of an earlier era."
The countries also agreed to revisit and strengthen their current emissions targets, known as nationally determined contributions (NDCs) to keep on track with the 1.5ºC target and discuss them on an annual basis, as the previous pledge under the Paris Agreement to revisit NDCs every five years is too long for countries to act swiftly on climate.
In his emotional closing statement, Alok Sharma apologised for the late wording changes and watered-down pledges, saying: "May I just say to all delegates I apologise for the way this process has unfolded. I also understand the deep disappointment but I think, as you have noted, it's also vital that we protect this package."
Speaking later with the Guardian he said: "My fear was we would lose the whole deal. This was a fragile agreement. If you pull one thread, the whole thing could unravel. We would have lost two years of really hard work - we would have ended up with nothing to show for it, for developing countries."
The final Glasgow Climate Pact is yet to be published, but the latest "advance version" can be found here.