News
Updated Oct 13, 2022
Uncertain future for solar projects on farms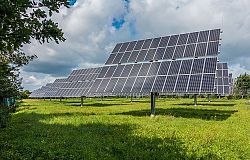 During her leadership campaign, Prime Minister Liz Truss stated that she wanted to see farmers producing food and "not filling fields with paraphernalia like solar farms". It is now believed that tighter restrictions on solar farms could be introduced soon.
Environment Secretary Ranil Jayawardena is understood to be opposed to solar panels on agricultural land as it potentially impedes a programme of growth and food production. As such, government sources suggest that farmland categories showing Best and Most Versatile (BMV) land could be redefined. This is because current planning guidance states that development on such land should be avoided.
The middle-to-low category 3b of farmland could be brought into the higher BMV category. Most solar farms are built on or planned for 3b land, so this would be a blow to future solar projects on such land.
Chris Hewitt, chief executive of Solar Energy UK said: "The UK solar sector is alarmed by attempts to put major planning rules in the way of cheap, homegrown energy. Solar power is the answer to so many needs and policy demands: it will cut energy bills, deliver energy security, boost growth and help rural economies. Ranil Jayawardena's opposition to solar farms must surely make him part of the anti-growth coalition."
It is also reported that the plans may face opposition from the Secretary of State for Business, Energy and Industrial Strategy, Jacob Rees-Mogg, who doesn't believe farmers should be told what to do with their land. In a recent article written for the Guardian, Mr Rees-Mogg indicated he was convinced by the need to boost renewable energy, claiming he is not a "green energy sceptic" and that the department would support renewable energy.
He said in his article that "We are exploring options to support low-cost finance to help householders with the upfront costs of solar installation, permitted development rights to support deployment of more small-scale solar in commercial settings and designing performance standards to further encourage renewables, including solar PV, in new homes and buildings."
Whilst it appears that the plans to restrict solar projects on agricultural land will go ahead, as indicated by a spokesperson, official details of the restriction remain to be seen at the time of writing. Watch this space!