EU passes universal charger legislation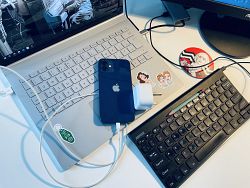 The European Parliament has today adopted new legislation which will introduce a common charger for small electronic devices.
By the end of 2024, USB type-C will be the standard charging port for smartphones, tablets, e-readers, keyboards, computer mice, GPS devices, digital cameras, headphones, headsets and earbuds, hand-held video game consoles and portable speakers.
From 2026, USB-C will also be used for laptop chargers.
The legislation has been seen as a way to reduce electronic waste and was overwhelmingly voted for, with 602 votes in favour, 13 against and eight abstentions.
Chargers generate up to 13,000 tonnes of electric and electronic waste each year, according to the European Commission, and the new rules are expected to reduce this amount drastically. However, that figure is a drop in the ocean of e-waste, of which the EU collected a total of 4.5 million tonnes in 2019.
A European Parliament press release stated:
"Under the new rules, consumers will no longer need a different charger every time they purchase a new device, as they will be able to use one single charger for a whole range of small and medium-sized portable electronic devices,' the European Parliament said in a press release today.
"Regardless of their manufacturer, all new mobile phones, tablets, digital cameras, headphones and headsets, handheld videogame consoles and portable speakers, e-readers, keyboards, mice, portable navigation systems, earbuds and laptops that are rechargeable via a wired cable, operating with a power delivery of up to 100 Watts, will have to be equipped with a USB Type-C port."
Where will this legislation apply?
The Government announced in June 2022, that it is not intending to follow Europe's lead. So England, Wales and Scotland will continue to use multiple different charging cables.
Ireland will be required to implement these new measures, as will Northern Ireland as a result of the Northern Ireland Protocol.
For more information, see: