News
Updated Oct 19, 2022
Anglian Water fined for pollution incidents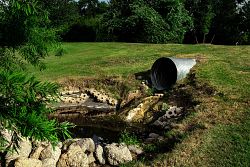 Anglian Water has been fined a total of £1,221,000 following two court cases. Both cases related to pollution incidents occurred in 2019.
The first case related to a series of pollution incidents across Cambridgeshire, Buckinghamshire and Northamptonshire between May and September 2019. Several process failures led to the incidents. The failures include reporting delays, faulty screening and a breakdown in planning and maintenance which led to blockages and pollution, with one pollution incident resulting in dead aquatic invertebrates for 1500 metres.
One incident occurred because of a build-up of items that should not be flushed, such as cotton buds and sanitary pads. However, the build-up remained unchecked which led to a discharge of sludge into treated sewage.
These incidents resulted in a fine of £871,000 and an order to pay costs of £37,605.13.
A separate court case against Anglian Water also took place due to a pollution incident in September 2019 which happened when a pumped sewer in Cambridgeshire burst for the sixth time since 2004. As a result, water measurements showed ammonia and low oxygen levels posing a risk to wildlife. Although Anglian Water attempted to stop the polluted water from spreading, the methods it used weren't sufficient and 4km of the watercourse became polluted for at least five days.
Cambridge Magistrates Court found that Anglian Water had been too slow in implementing mitigation measures, considering the frequency at which the sewer had burst.
Anglian Water pleaded guilty to causing poisonous, noxious or polluting matter to enter inland freshwaters without an environmental permit, resulting in a fine of £350,000, costs of £28,025.66 and an order to pay a victim surcharge of £181.