Plans announced to make UK world leader in wind energy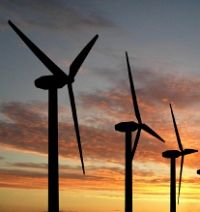 Prime Minister Boris Johnson announced today (6 October) a new plan to "Build Back Greener" by investing in offshore wind energy, which would create jobs, cut carbon emissions and improve exports.
A funding boost of £160 million will be made available to invest in upgrades to ports and infrastructure across Northern England, as well as Scotland and Wales to greatly increase the offshore wind capacity. It is estimated that this scheme would produce around 60,000 jobs directly and indirectly linked to offshore wind turbines.
The Prime Minister also set out further commitments to boost the "green industrial revolution", including:
confirming offshore wind will produce more than enough electricity to power every home in the UK by 2030, based on the current usage of electricity, increasing the Government's target from 30GW to 40GW;
creating a new target for floating offshore wind to deliver 1GW of energy by 2030, which is 15 times the current volumes worldwide through implementation of new technologies;
setting a target to support up to double the capacity of renewable energy in the next Contracts for Difference auction, which will open in late 2021, aiming to provide enough clean and low-cost energy to power up to 10 million homes.
Speaking about the project, the Secretary of State Alok Sharma commented: "The offshore wind sector is a major British success story, providing cheap green electricity while supporting thousands of good-quality jobs.
"Powering every home in the country through offshore wind is hugely ambitious, but it's exactly this kind of ambition which will mean we can build back greener and reach net-zero emissions by 2050."
Currently, the UK has the largest installed capacity of offshore wind in the world, with around 10GW in operation off the coasts. However, the plan announced by the Prime Minister does not cover heating of homes or providing green electricity for businesses and industrial production, which is currently responsible for most of the UK's carbon emissions.