Cedrec Homeshow coming soon!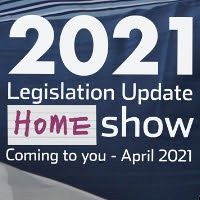 Editor's note:
You now book your place for our Legislation Update Homeshow here.
Normally by now we're putting the finishing touches to next years Legislation Update Roadshow - finalising venues, booking train tickets and working out how to squeeze hundreds of brochures into Gareth's suitcase.
But Corona...
Obviously, nobody has any idea what things will be like next year. A lot of our venue friends unfortunately aren't or can't open yet anyway, and anything we could book runs the risk of being cancelled at short notice. But most importantly, its not the right thing for us to be organising a big event with hundreds of people in attendance.
So, as a one-off we're going to do things a little differently. 2021's Roadshow, will become a Homeshow...
What will it be?
Our plan at the moment, is to run the Homeshow as an online webinar.
It will take our usual Roadshow format, a look back over all the important legislation from 2020, and a look forward to what's coming up in 2021, but it will be one shorter, combined event which will cover both environment and safety.
When will it be?
There's no "official" date decided yet, but we're working towards running the Homeshow at the end of April 2021.
This is later than we normally do things, but holding it after the transition period ends on 31 December 2020, and the UK has formally left the EU, will allow us to be able to tell you all about the relevant changes in legislation with far greater clarity.
When and how can I book?
Soon!
We're working on marketing images as we speak, and a few finer details, then you'll be able to sign up using our normal booking system.
We'll give you more information as soon as we have it! So keep an eye on the Cedrec website and our Monthly Bulletins for more information.