Tomorrow is World Car Free Day!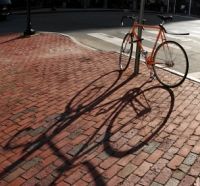 Friday 22 September is World Car Free Day, when all around the world towns and cities allow people to experience streets free of motor traffic.
It is a great chance to re-imagine our streets around people, with the charity Living Streets' objective to make our streets safer and better for walking and wheeling.
There are plenty of ways to get involved in World Car Free Day and show support for motor-traffic free streets:
cycle or walk to work or the shops if you are able and it is safe to do so;
set up your own Parklet, which is a space created in the streets for seating, cycle parking, gardens, play areas or art (Living Streets have their own parklet toolkit);
set a challenge amongst colleagues to ditch their car for the day, and seek alternative routes to work.
If you are able to swap your car for cycling or walking you can:
reduce your CO2, carbon and greenhouse gas emissions;
improve your mental and physical health;
save on travel costs.
The Living Streets websites provides more toolkits and stories on World Car Free Day.