News
Updated Sep 29, 2022
New legal requirements for quad bike operators in Ireland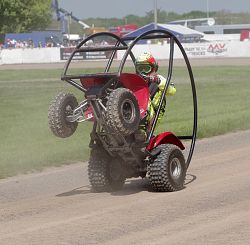 The Health and Safety Authority (HSA) are raising awareness with farmers to make sure they are compliant with new legal requirements relating to operators of all-terrain vehicles (ATVs) or quad bikes.
An amendment was made to the Safety, Health and Welfare at Work (General Application) Regulations SI 299/2007, to introduce two new requirements for anyone operating an ATV/quad.
The first new requirement makes it mandatory for all quad operators to have completed an all-terrain vehicle safety training course provided by a registered training provider. Secondly, all quad operators must also wear a protective helmet when operating a quad.
Although these new requirements don't officially come into force legally until November 2023, the HSA is encouraging farmers who regularly use ATVs to get ahead of the changes and start complying now.
Farming remains one of the most dangerous occupations in Ireland with ten work related fatalities on Irish farms in 2022. One of these deaths was caused by a quad related incident, and over the last ten years 11 people in total have been killed in the farming sector in incidents relating to quad bikes.
Minister of State for Business, Employment and Retail, Damien English TD, commented on the upcoming changes: "While there have been some improvements in recent fatality figures, every death is one too many, and is devastating for the families, friends and communities left behind. I would urge everyone working on farms to engage with the HSA's guidance and look to the many supports they have available to work safer on farms, especially when it comes to operating machinery."
Would you like more news like this from Cedrec in your email? Then sign up for our free monthly bulletins.
If you want a bit more, you can also take a trial of our system and see how we make legislation simple!