News
Updated Sep 30, 2022
Building with Nature say green infrastructure should be considered "critical"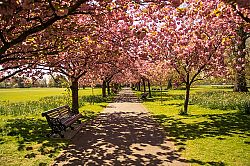 Developers and planners in the UK have been urged to value green infrastructure as critical because such sites deliver nature-based solutions that build climate resilience.
Building with Nature emphasises that green infrastructure can level up community health and wellbeing, and secure biodiversity and nature recovery in development.
Due to record high temperatures over the summer, droughts, fires and flash flooding, Building with Nature argues that these events demonstrate an "urgent" need for the built environment to be more climate-resilient, and to provide solutions to the impacts of extreme weather events.
Green infrastructure can create "sponge cities" that can better manage floodwater, soaking up sudden downpours more effectively. "Climate-resilient" planting offers shade and urban cooling.
Such measures support people and wildlife through extreme temperature events.
Building with Nature director Dr Gemma Jerome FLI said: "To deliver climate-resilient development, the built environment sector must transition rapidly to delivering high-quality green infrastructure as the norm. Developers need to be ready to deliver high-quality development that responds to the national policy agenda, not just on climate resilience, but also on Biodiversity Net Gain and nature recovery, accessible natural green space and sustainable water management".
""If the whole design team is on board from the start of a project, green infrastructure is a relatively low-cost and easy-to-deliver nature-based solution, but the multiple benefits of green infrastructure are not yet well understood across the sector and too often the natural environment is only considered at the end of the design process. Building with Nature is here to support developers and planners to better understand, design and deliver high-quality green infrastructure across a range of development contexts".
Would you like more news like this from Cedrec in your email? Then sign up for our free monthly bulletins.
If you want a bit more, you can also take a trial of our system and see how we make legislation simple!