Wind and solar expected to be cheaper energy options by 2040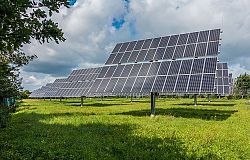 New research from the Department for Business, Energy and Industrial Strategy (BEIS) has shown that new solar and wind plants will cost significantly less than gas per megawatt hour in the next 20 years.
By 2025 the cost of large scale solar generation plants is already expected to be notably cheaper than gas at £39 to £51 per megawatt, whereas gas will be £84 to £87 per megawatt.
Then for solar plants commissioned by 2040, their costs are expected to be as low as £28 to £39 per megawatt. By this time the cost of gas energy production is anticipated to have increased markedly, and could cost as much as £124 to £127 per megawatt.
Wind power generation is also expected to be able to massively undercut the price of gas by 2040. Offshore wind is anticipated to cost between £36 and £44 per megawatt by 2040, and onshore around £38 to £50. These figures for wind and solar power generation shows that it is much cheaper than previously forecast by the Government.
As this study backs that large scale solar photovoltaic power generation is one of the cheapest means of generating power, the solar sector is keen to push for growth.
Chief Executive of the Solar Trade Association, Chris Hewett commented: ''Now it is time for the Government to set an ambitious target for the deployment of solar PV in the UK as it has done with offshore wind. Our favoured goal, 40GW by 2030, aligns with recommendations made by the Committee on Climate Change and the National Infrastructure Commission, and is achievable with moderate policy support.''