UK on route for first plastic to hydrogen project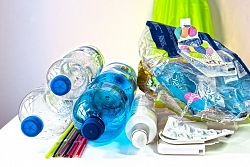 The engineering design phase has began on what is believed to be the UK's first hydrogen from plastic waste facility. The project by developer Peel L&P Environmental will be located at Thornton Science Park in Cheshire.
They are hoping the hydrogen they produce will be used to fuel cars, buses and heavy goods vehicles and that the project will help to transform how plastic waste is managed in the region. Their facility will be part of a new plastic park which is anticipated to enter into construction later this year.
Richard Barker, Director at Peel L&P Environmental commented: ''With hydrogen increasingly being seen as an important part of our journey to net zero, the time is now.''
The company hopes to develop 11 facilities across the UK in the coming years.