RTPI launches net-zero transport project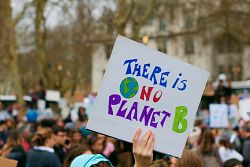 The Royal Town Planning Institute (RTPI) has appointed three organisations to work on a research project, to demonstrate how spatial planning can deliver net-zero transport.
The research being carried out by LDA Design, City Science and Vectos, will support the Department for Transport's emerging decarbonisation plan by clarifying where planning can be used to reduce emissions in different types of places. This will also inform the RTPI's response to the new planning white paper.
The organisations will consider a variety of potential solutions such as:
increasing density;
restricting car use;
promoting mixed development and mobility hubs; and
creating integrated active and public transport networks.
In December the Committee on Climate Change (CCC) will be establishing the sixth carbon budget for the UK, setting the path to achieving net zero carbon by 2050.
RTPI policy and networks manager James Harris commented on transport emissions remaining stubbornly high, and that changes to planning policy and patterns of infrastructure investment had failed to tackle this problem so far.
"Over the coming decade we will need bold and ambitious spatial plans to reshape the built environment, helping to reduce the need to travel, and maximising the use of walking, cycling, public transport and shared mobility".
The project will create fictional areas which represent typical places across England, from rural counties to city-regions. By using data and decarbonisation software, the team will model the carbon impact of different land uses, activities and transport modes, and consider how to overcome barriers to decarbonisation.
The team will also consider the potential impact of COVID-19, and the role of planning policy and culture in ensuring that decarbonisation delivers wider benefits to:
health and wellbeing;
inclusion; and
strategic green infrastructure.