Record wind power use set in August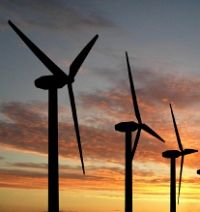 National Grid have confirmed that records were broken in August when wind power generation supplied almost 60% of the UK's electricity on two separate occasions.
On 22 August 59.1% of all the UK's electrical supply was generated by wind power. Days later this record was broken as 59.9% of all power demand (14.2GW of total power demand) was met by wind power on 26 August.
The UK has a current total of operational wind capacity of 24GW, 13.6GW from onshore wind and 10.4GW offshore. These amounts are increasing year on year and by 2030 offshore wind alone is anticipated to be able to meet a third of all the UK's power demand.
Luke Clark, RenewableUK director of strategic communications commented: ''Renewables are breaking records faster than anyone expected, and this new wind record is a clear signal of the future of our energy system. We need to see a huge increase in low-carbon power to meet the UK's net-zero target and if we can ramp up low-cost renewables in the short term, that will boost our economic recovery and speed up the switch to low-carbon heating, electric vehicle and investment in new technologies like green hydrogen."