Permission granted for seabed lease for new offshore wind projects in Wales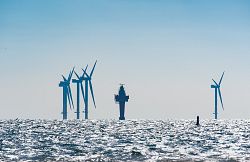 The rights for seabed lease agreements to two new offshore wind projects have been granted by the Crown Estate, who is responsible for the management of the majority of the seabed around the UK coast.
Both the projects are off the Welsh coast and will mark a significant boost to the Welsh offshore wind sector if granted full development permission.
Developer Blue Gem Wind has been granted a lease agreement for a 96 Megawatt Erebus floating wind project, located 44km off the Pembrokeshire Coast. This is the first time a floating wind farm project has been granted rights in Wales.
The second project granted rights is for an extension to an existing offshore wind farm, Gwynt y Môr offshore wind farm, which is located off the coast in North Wales. This extension could deliver up to 576MW of additional capacity.
Having now secured the lease for the rights to use the seabed in those areas, both projects must now continue with their applications for consent, submitting environmental assessments, planning consent and securing access to the grid before development can commence.